Sign In to the Member Section
January 2021 Events
January 8 | World Affairs Council of Hilton Head | David Eisenhower II, J.D.
A graduate of Amherst College and George Washington University Law School, Eisenhower served in the U.S. Navy and authored Eisenhower at War, 1943-1945, a New York Times bestseller and one of three history jury selections for the Pulitzer Prize in History in 1987.
David Eisenhower is the director of the Institute for Public Service at the Annenberg School at the University of Pennsylvania, where he teaches Communication and the Presidency, which examines the impact of the "Bully Pulpit" on recent and contemporary national politics. He also oversees COMPS (Communication in Public Service) undergraduate students' course work and internships. The Institute also sponsors events and symposia and brings teaching fellows to the Annenberg School.
January 14 | World Affairs Council of Orange County | Webinar with Rebecca Lissner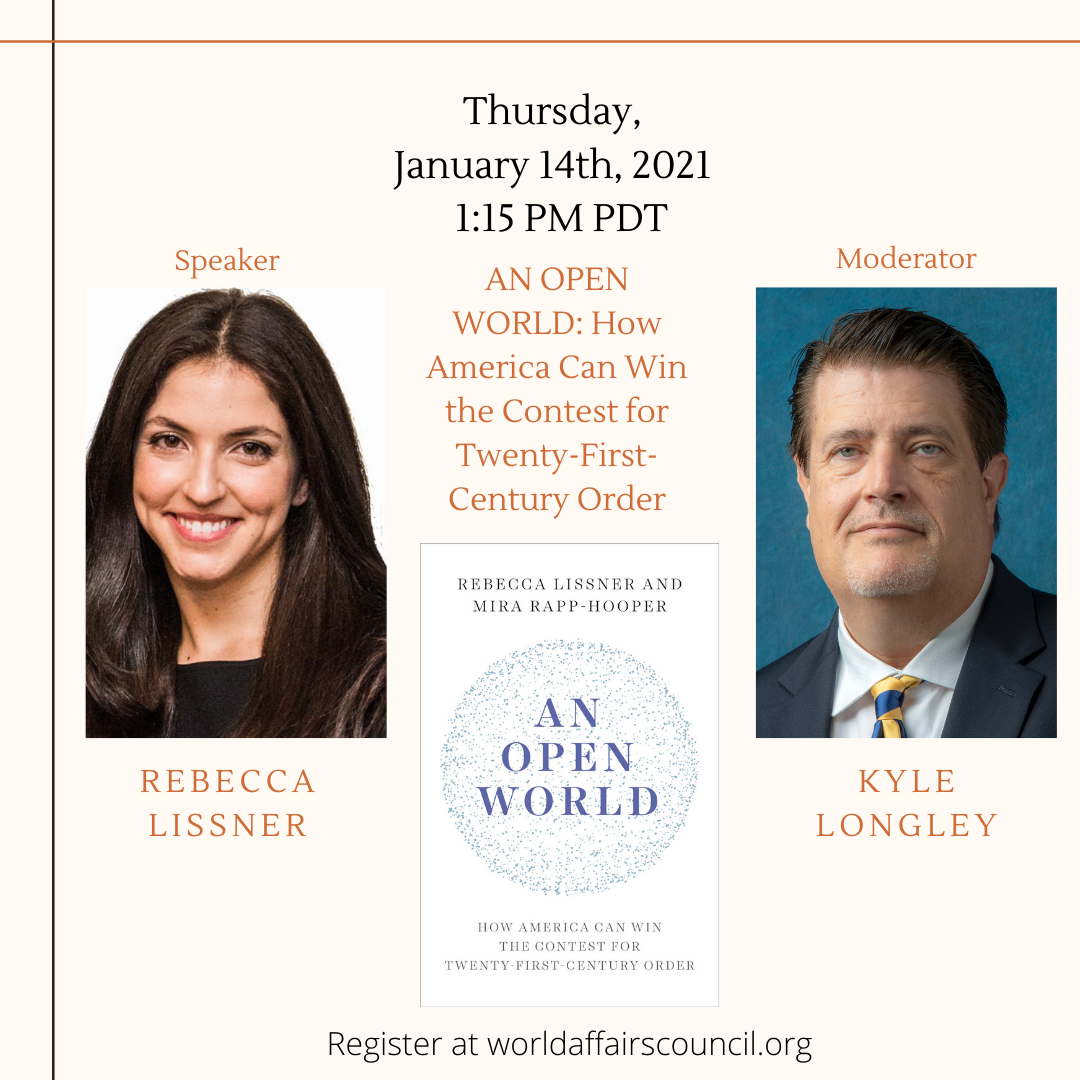 Thursday, January 14th, 2021 – 1:15 PM PDT
Join from a PC, Mac, iPad, iPhone or Android device:
Please click this URL to join. https://zoom.us/s/91422310131
Or join by phone:
Dial(for higher quality, dial a number based on your current location):
US: +1 669 900 6833 or +1 346 248 7799 or +1 253 215 8782 or +1 301 715 8592 or +1 312 626 6799 or +1 929 205 6099
Webinar ID: 914 2231 0131
International numbers available: https://zoom.us/u/aeuXOzqy42
The World Affairs Councils of Orange County Presents:
AN OPEN WORLD: How America Can Win the Contest for Twenty-First-Century Order
A free webinar with Rebecca Lissner
Moderator Kyle Longley
Rebecca Lissner is an Assistant Professor in the Strategic and Operational Research Department at the U.S. Naval War College and a Non-Resident Scholar at Georgetown University's Center for Security Studies. Previously, Dr. Lissner held research fellowships at the University of Pennsylvania's Perry World House, the Council on Foreign Relations, and International Security Studies at Yale University. She also served as Special Advisor to the Deputy Secretary at the U.S. Department of Energy and, during the 2016 election cycle, advised the Hillary Clinton campaign and transition team on foreign policy.
Dr. Lissner's research and writing focuses on U.S. national security strategy and the future of international order. She is the co-author of An Open World: How America Can Win the Contest for Twenty-First-Century Order (Yale University Press, 2020) and her second book, Wars of Revelation: The Transformative Effects of Military Intervention on Grand Strategy, will be published by Oxford University Press. Her scholarship has been published in Political Science Quarterly, the Texas National Security Review, Survival, Presidential Studies Quarterly, and International Peacekeeping. Her policy writing has appeared in Foreign Affairs, Foreign Policy, and The Washington Quarterly, among other publications. Dr. Lissner received an AB in Social Studies from Harvard University and an MA and PhD in Government from Georgetown University. She tweets @RebeccaLissner.
Kyle Longley is the Director of the War and Society Program and professor of history at Chapman University, recently joining the faculty after more than two decades at Arizona State University. He specializes in U.S. military history, U.S. foreign relations, and modern American politics. He is the author or editor of nine books on topics ranging from U.S.-Latin American relations to southern politics and the American presidency. His most recent works include the prize winning, The Morenci Marines: A Tale of a Small Town and the Vietnam War, Grunts: The American Combat Soldier in Vietnam, LBJ's 1968: Power, Politics, and the Presidency in America's Year of Upheaval, and In Harm's Way: A History of the American Military Experience. He also is a prize-winning teacher, receiving the Centennial Professorship for outstanding teaching by the Associated Students of Arizona State University and the Zebulon Pearce Award for outstanding professor in the Humanities at ASU.
January 22 | World Affairs Council of Hilton Head | Col. David Maxwell
What is the nature of the Kim Family Regime and why is it important to the United States? There are five major issues surrounding Korea: war, instability and regime collapse, human rights, proliferation, and global illicit activities, and unification. South Korea and the US remain blood allies but there is always friction within the alliance that must be managed. While North Korea is an existential threat to South Korea it is in the US national interest to prevent conflict and if it (or regime collapse) occurs to ensure that what follows is a secure, stable, economically vibrant, non-nuclear peninsula unified under a liberal constitutional form of government that might be called the United Republic of Korea.
January 26 | World Affairs Council of Western Massachusetts | Dan Shapiro on Arab-Israeli Conflict Negotiation
The World Affairs Council of Western Massachusetts is pleased to partner with the MS in Leadership and Negotiation at Bay Path University in presenting Dr.

Daniel Shapiro at virtual presentation on Negotiating the Non Negotiables in the Arab-Israeli Conflict and Beyond on Tuesday, January 26, 2021 7:00 PM EST.




Our world is awash in conflict–from the on-going Arab-Israeli conflict to the combusting mix of the pandemic, economic turmoil, and political divisiveness. Why are modern conflicts so difficult to resolve, and what can we do about it? Drawing on his work in the Middle East and elsewhere, Dr. Shapiro will present a framework he has developed to illuminate underlying psychological complexities fueling present-day conflict—and will offer insight on how to move forward.




Dr. Daniel Shapiro is the founder and director of the Harvard International Negotiation Program. Dr. Shapiro teaches a highly evaluated course on negotiation at Harvard College; instructs psychology interns at Harvard Medical School/McLean Hospital; and leads executive education sessions at the Program on Negotiation at Harvard Law School, Harvard Kennedy School, and Harvard Medical School/McLean Hospital. He has served on the faculty at the Fletcher School of Law and Diplomacy, Tufts University, and at the Sloan School of Management at Massachusetts Institute of Technology. He is author of Negotiating the Nonnegotiable and is coauthor with Roger Fisher of Beyond Reason: Using Emotions as You Negotiate.
January 28 | World Affairs Council of Orange County | Global Macro Trends Shaping 2021 and Beyond
World Affairs Council OC Presents . . .
Topic: Global Macro Trends Shaping 2021 and Beyond
Speaker: Samuel Brannen, Director Risk & Foresight Group, CSIS
Date: Thurs., Jan 28th, 2021
Time: 4:00 PM EST / 1:00 PM PST
Format: One-hour webinar
Registration: https://worldaffairscouncil.org/event/january-28th-2021-global-macro-trends-shaping-2021-and-beyond/
Director Sam Brannen leads the Risk and Foresight Group at the Center for Strategic and International Studies (CSIS) and is a senior fellow in the International Security Program. He has previously served as a long-range strategic planner and adviser to senior leaders in government and business. The newly established Risk and Foresight Group is charged with providing decision makers with insights into the forces of change reshaping the global environment, from shifting demographics to emerging technologies.
Brannen returned to CSIS in fall 2018 after spending four years as director of A.T. Kearney's Global Business Policy Council, where he advised CEOs on the business implications of global macro-trends and conducted 5- to 10-year assessments of countries, sectors, and industries. Previously at CSIS, he was a senior fellow and led research on unmanned systems, shifting geopolitics, and defense strategic planning.
Brannen also held multiple positions at the Pentagon, including advising on strategy and foresight issues and serving as country director for Turkey in the Office of the Secretary of Defense. He holds a master's degree in international affairs from the George Washington University and a bachelor's degree in political science from Trinity University in Texas.
###